Introducing SongLyrics.band: Your Ultimate Destination for Lyrics with Over 5 Million Songs and 200,000+ Bands
SongLyrics.band, the leading online resource for lyrics, proudly celebrates its enduring presence since 2018. With a vast and ever-growing collection of over 5 million lyrics spanning the works of more than 200,000 bands, SongLyrics.band continues to be the go-to platform for music enthusiasts, artists, and lyric aficionados.
Since its inception, SongLyrics.band has been committed to providing a comprehensive and user-friendly lyrics database, catering to a diverse range of music genres. Whether you're a fan looking to sing along to your favorite tunes or a songwriter seeking lyrical inspiration, SongLyrics.band has you covered.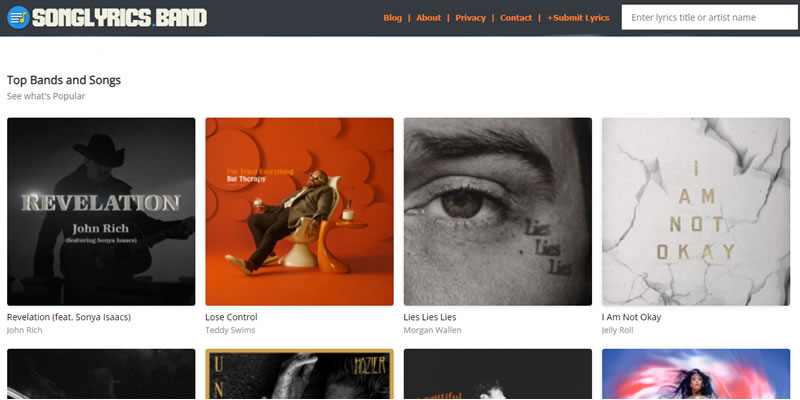 Key Highlights of SongLyrics.band:
Extensive Lyrics Collection: SongLyrics.band boasts an extensive library of lyrics from various genres, including rock, pop, hip-hop, country, and more. Users can explore lyrics from both classic tracks and contemporary hits.
User-Friendly Interface: The website's intuitive interface ensures that users can easily search for lyrics by song title, artist name, or album, making it effortless to find the words to your favorite songs.
Lyric Contributions: SongLyrics.band values community engagement and welcomes user contributions. If you spot any missing lyrics or wish to add lyrics from your favorite band, you can contribute and enrich the database for fellow music lovers.
Mobile Compatibility: The platform is fully compatible with mobile devices, allowing users to access lyrics on the go. Whether you're at a concert or in your car, SongLyrics.band is your lyrics companion.
Constant Updates: SongLyrics.band is committed to staying current with the music scene. Regular updates ensure that users have access to the latest songs and their accompanying lyrics.
"As we mark our journey into the world of lyrics for over three years, we are thrilled to continue serving music enthusiasts worldwide. SongLyrics.band has always aimed to be a reliable source for lyrics, offering a seamless and enjoyable experience to our users," said [Evren. E], [Webmaster] at SongLyrics.band. "We owe our success to our dedicated community and our shared passion for music. We look forward to growing together and enriching our lyrical collection even further."
Discover the world of lyrics like never before. Visit www.songlyrics.band today and explore the vast treasure trove of musical expressions.
About SongLyrics.band:
SongLyrics.band is a leading online lyrics platform that has been serving music enthusiasts since 2018. With an extensive database of over 5 million lyrics from more than 200,000 bands, SongLyrics.band is committed to providing a comprehensive and user-friendly resource for lyrics across various music genres. The platform welcomes user contributions and offers a seamless mobile experience for on-the-go music enthusiasts.